Found this little gem out at Miller Motorsports Park in Tooele (pronounced – too-el-ə) today and this is a cool bike. Other then the year I do not know much about this bike, I was able to find the year but not really much info on this motorcycle on the web as of now that I could find.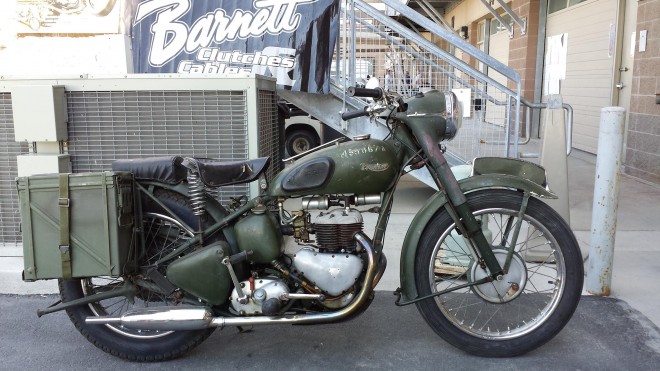 I am a sucker for military motorcycles as I love the OD green and the kick-start engine. I do dig the look of the front fender that to me is iconic. As we can all see there is a side stand but if you look harder you will see a center stand off of the rear axel that is different to me. I have only see that one other time in my life and I cannot remember the motorcycle type that I saw that style of center stand on.
Overall I like this motorcycle and I love Triumph motorcycles as I used to ride one for my second motorcycle. I rate this motorcycle as a 4 out of 5 stars as this is not a bobber but pretty freaking sweet of a motorcycle that I would ride anytime that I could ride.
Submit your motorcycle here.
Related posts: