This is a beautiful late 1970 Bonneville motorcycle worked over in a traditional british bobber motorcycle style. Nearly everything has been gone through and rebuilt or replaced. This bobber has been really taken to the next level as ou can see from the paint job. The seat has been converted to a solo seat with a re-covered and stuffed stock seat. Below the picture is a list of recent work, done by a professional Triumph mechanic.
Check out everything that has been done to this Triumph Bonneville bobber motorcycle:
New Dunlop tires
Powdercoated wheels
Beautiful custom paint that's less than a year old
Rebuilt TR6 cylinder head with Rowe valve guides and freshly lapped valves
Freshly rebuilt carburetor
Rebuild rocker boxes
Newer pistons, rings and cylinder hone
Boyer electronic ignition
Flanders flat-track bars with new grips and controls
New clutch plates, steels, clutch basket and primary chain
Original KD/Bates headlight
Tomaseli headlight mounts
New wiring harness
Custom cat-eye taillight
Custom mount solo seat
Rebuilt Smith speedo with custom mount
Shorty mufflers w/ removable baffles
Various gaskets and seals replaced throughout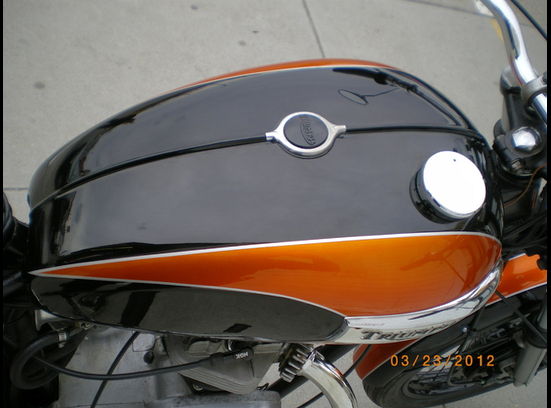 The paint job is really nice and clean. I would rate this bobber a 4.6 our of 5. The reason for that is that most bobber motorcycles toss the front fender and cut the rear fender and that has not happened on this Triumph Bonneville and that is what discourages me.
Related posts: