The Honda CB500 four, introduced early in the 1970s, was similarly styled to the CB750, but smaller and lighter, with an output of 48 bhp and a manufacturer's specified top speed of 102 mph. Like the earlier CB750 it sported a single front hydraulic disc brake, rear drum brake, electric starter, and sohc 8-valve engine. The 4-into-4 exhaust pipes echoed those of the CB750. It was deemed a better handling bike than the larger model, although it was still no featherweight at 440 lb dry.
This is a really sweet Honda bobber motorcycle below. I think that the paint is exquisite. As we look this bobber over from the front to the back we can see some amazing rims. The look of the frame and the tank I think that the saddle and the oil tank look great with excellent metal work. The rear fender has been cut short but I like it.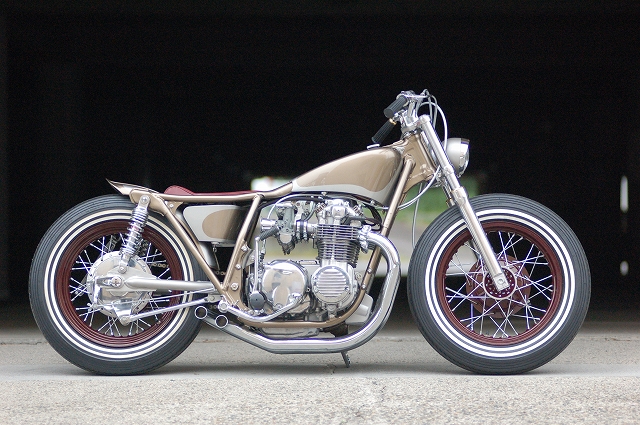 I like the fuel tank that is low and on the backbone of the frame. The saddle doe not look that comfortable and I wish that the awesome looking handlebars had a mirror. I like the chrome work on this bobber. I wish that the rear tail light, while cool was on both sides. I like the look of the bobbers but on a safety factor and the overall look I have to give it a 4.8. The saddle does not look comfortable, there is no mirror, and I do not think that the rear tail light is enough.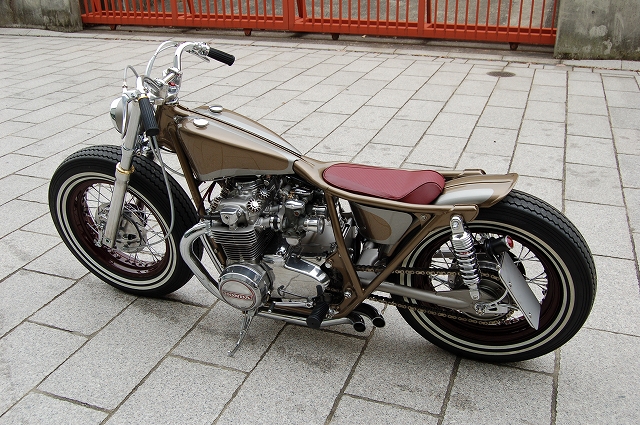 Check out the rest of the bobber images below.
Submit your bobber motorcycle here.
Related posts: