This bobber motorcycle was sent to me just the other day. I really like it a lot. It has 99% of the things I am looking for on a bobber. It has the mirror's and I love the placement of the rear brake light. That sucker is big and right where it is supposed to be. The seat looks a little uncomfortable and not that fun for long rides. Keep in mind though that a bobber is not supposed to be confortable so I will not judge the bobber on that aspect. Here is what Jonathan wrote:
Here's my first bobber project, I call it Bobber#1. This is a 1982 Honda CB650, it was sitting in some guys shed for years. The first pic is what it looked like when I bought it, and the others are some custom parts I made and finally the finished bike. Here's a list of all the stuff I did.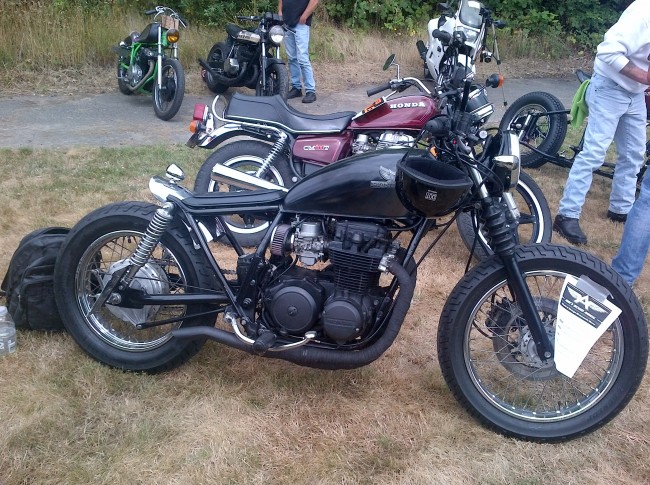 Builder: Jonathan Woods
Motorcycle Frame
Chopped passenger part of frame off, welded caps on the end of the frame.
Chopped the parts where the passenger pegs were attached to and welded pieces of metal in place to finish it.
Modified rear brake return spring location
Cut off battery plastic cover mount tabs
Cut off/removed bike stand
Modified and relocated battery box to swing arm
Custom seat pan, had it upholstered
Custom head light mount
Custom license plate bracket
Drag bars with 1.5″ risers
Customized rear fender
Custom speedo/ignition mount
JT front and rear sprockets
Volar Chain
Relocated choke puller to triple tree
Replaced front fork seals/added fork boots
Bake-on enamel paint
Motorcycle Engine
New piston/rings
Honed cylinders
Removed tachometer and made custom teardrop shaped piece to cover where it went into
Complete top end gasket kit
Customized pipes with turn-down tips
Black header wrap
K&N filter pods
Dyno-Jet stage 3 jet kit
Sythnetic oil
New NGK spark plugs
Crankcase breather filter pod
Bake-on enamel paint
Motorcycle Tires
Dunlop D404's
Front tire 120/19
Rear tire 140/17
Motorcycle Tank
Shadow chrome tint paint/with crap load of clear coat
Electrical:
Front: Bullet style turn signals
Rear: Micro Laser turn signals integrated into frame weld caps
Bullet style tail light
Mounted electrical components under seat
Stock controls
Mirrors:
Black Magazi mirrors
So as you can see, what was not done to this bobber to make it awesome? Everything that I would have done has been done and a little bit more. I wish there was a front fender as some states do require that your motorcycle has a front fender. It is best to check your state to see what you are supposed to have and make sure you have it when you get your inspection in the states. I do wonder what other countries require though.
Overall I will give this bobber motorcycle a 4.6 out of 5. I do not see any rear turn signals. In Utah (where I live) you are required to have turn signals and sometimes people never see you. A turn signal helps get the attention of the people in the minivan that are busy talking on their cell phone and yelling at their kids. I would ride this bobber any time of day. It really is a beautiful bobber motorcycle.
Related posts: