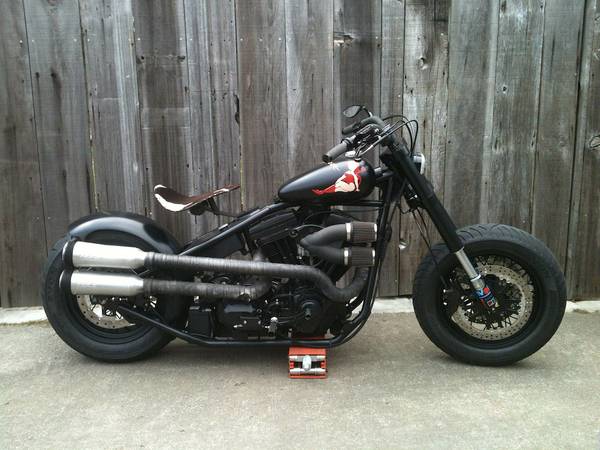 This is a sleek bobber that will turn a few heads I am sure. I this is bobber bike has a lot of value to it for anyone that rides it. I see this bike as a good weekender bobber that you can take a trip to get away on. I am really in love with this bobber. Check out the photos below as we have a bunch of them for you to look over. I think the LED head light and the recessed lights on the frame add a really nice touch. Love to see this bike at night around town.
Here are the details:
Engine: 98′ EVO S&S
103 CI, 5″ stroker
Ported, polished and flowed heads.
Extreme cam
Dual S&S intake
Ignition: Dual coil Dynatek
Transmission: 6-speed S&S
Primary — BDL lockup ball bearing clutch belt drive
Performance Machine primary case
Stealth starter
Paint: Rally Matte black
Forks: Mean Street 2-inch under inverted
Frame: Sucker Punch Sally hardtail w/in-frame wiring
Handlebars: Flanders 1 1/4-inch Bad Boy TT, All Performance Machine controls
PIAA quartz headlight
Blinkers, LED self-canceling
Wheels: RideWright 16-inch powder coated and spokes
Tires: Avon Venom X. 180/70R16 rear. MT90B/16 front.
Brakes (front): Performance Machine "Wrath" 13-inch dual rotors,
6-piston calipers
(Rear) Performance Machine "Wrath" 11-inch rotor w/matching sprocket
Foot controls: Midway, Performance Machine
Gas tank: Mustang Custom channeled, hand brush-painted graphics
Oil tank: Custom
License frame: Custom with in-frame, recessed LEDs
Bobber fenders: Custom
Pipes: Custom with Super Trapp Elite racing mufflers
Seat: Custom with Holstein cowhide and hand brush-painted graphics
Mirror: Black cat-eye
Overall I would rate this bobber a 4.5 out of 5. I would ride this bobber any day of the week.
Related posts: