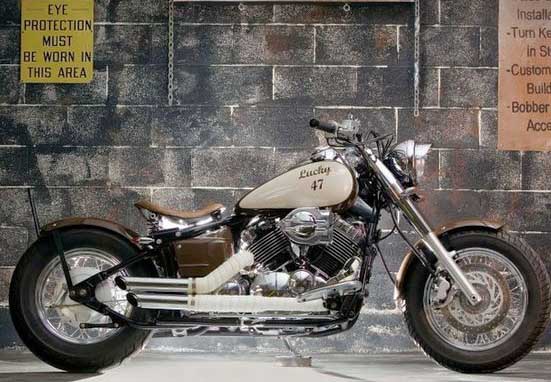 This bobber looks amazing, it a 2009 model, is powerful, and the best part: it doesn't cost $20,000.
You get all the reliability and safety of a new bike with the great look and attitudes of a classic bobber. This bike is truly UNIQUE. Now to the specs: it is a 2009 V-start 650, 70-degree overhead-cam 40-inch-V-twin, air-cooled. The changes are all cosmetic, meaning, the frame, engine, shocks are stock.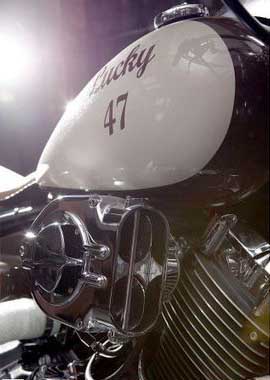 Some of the extras on this bobber:
Custom leather seat (stamped)
Kuryakyn PRO Hypercharger Air Cleaner (increases horsepower but mainly, it looks great)
Vance & Hines Short Exhaust with thermal wrap
Custom Fenders
Custom 59 Cadillac Lights (break, turning signals front and back)
Custom Paint by BackAlley Bobbers
Custom License Plate Kit
Handle bars (drag) with raisers (also, I will add a pair of Lick's Z-bars)
Registration Tube (secret tube to carry registration, etc)
As we look at this bobber motorcycle I am impressed as the attention to detail. This is a well taken care of bike with lots of love given to it. When I look it over from front to back I really like the front fender on this bobber as most have tossed them. I really like the two-tone paint on the tank and the Lucky 47 on the paint. Makes me think I want the same thing with my age when I get my bobber. I like the Vance & Hines short exhaust with thermal wrap and the rear fender that has been cut short. I like the solo leather saddle. Check out the photos below.
Overall I rate this bobber a 4.9 out of 5 I just think it is just too clean. *update the score with the help of Quest Ballard.
Related posts: