So today I was thinking that since I am in my 30's I do not want to have to bend over to work on anything anymore and kill my back that I should look into a motorcycle lift. After I did a few hours of research I found a few that I liked based on the different amounts of money.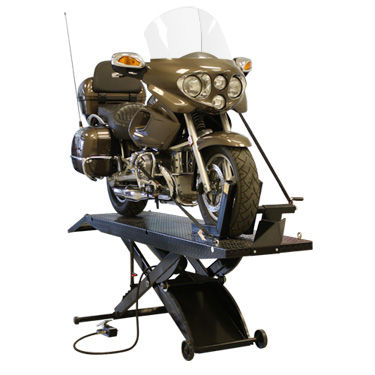 If you got money burning a hole in your pocket than I think the best motorcycle lift is the Direct Lift Pro Cycle Motorcycle Lift. Some of the features include, 93″ table length w/o ramp, Diamond plate surface, Vise included, Powder coated, Air operated / Foot pedal, Available in Black color only.
Specifications include 113″ overall length with ramp, without 93″. The removable approach ramp is 20″, Air Requirements 90 – 100 PSI, Width 24″, Full Rise 33″, Fully Lowered 7-1/4″, Capacity 1,000 lbs, Shipping Weight 500 lbs. Check out this YouTube video of the Direct Lift Pro Cycle Motorcycle Lift in action.
If you are more of the budget conscious type like myself or you are poor you might want to check out the Harbor Freight 1500 lbs Capacity ATV/Motorcycle Lift. You can work safely and more comfortably when you use this ATV/motorcycle lift to raise your ride up to 16″ above floor level if you are in a chair. Locks at four different heights (4-1/2″ to 16″), and the foot-activated pump leaves both hands free for positioning and stabilizing your ATV or motorcycle. When the job is finished, collapse the lift to just 4-1/2″ high for easy storage. Four (4) built-in positioning hooks for use with tie-downs, two-hand wheel brake prevents lift movement, return spring for automatic release, extra-long handle for easy lifting, heavy-duty all-steel construction, two 2-1/2″ diameter swivel casters. Capacity: 1500 lbs. max., Lift range: 4-1/2″ to 16″, Pad dimensions: 2-3/4″ W x 13-1/4″ L, Ram travel: 5-1/4″, Overall dimensions: 4-1/2″ H (collapsed) x 15″ W x 32″ L.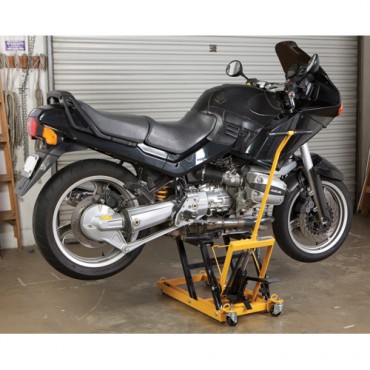 Now if you are dirt poor but are lucky enough to have a motorcycle there are some great YouTube videos of how to make a home-made Motorcycle Lift by cornfedbiker. Now on his design, what scares the hell outta me is the steel rod that I think could snap up and whack me in the balls. Then as I am crying and coughing on the ground I would then see my bike fall over. So be carefull with this one, but keep in mind this is on the ground so unless you have to remove wheels, just keep it on the side stand and you will be OK.
With every lift I suggest that you get some help to get it secured down. There are many types of lifts for motorcycles, find the one you like and can afford.