Nicholas Petit was commissioned by Continental tires to show off the Continental TKC 80 off road tires which you can see really easily on this motorcycle. So yes, Nicholas Petit took one of the fastest technologically advanced motorcycles and turned it into a bobber / dirt bike hybrid. I did a test ride of the BMW S 1000 RR last year and I wrote a post on it back then so go check it out.
Nicholas calls it the Mad Max and if you have ever seen the movie you will want to call it that too. I really like the matte black paint job finish on the BMW S 1000 RR. The dimensions on the TKC 80 are 120/70 B17 M / C 58Q and 180/55 B17 M / C 73Q. I really dig the knobby tires on this sport bike, it is a rare thing to see this type of motorcycle tire on this type of bike. So lets look this BMW S 1000 RR Bobber motorcycle over.
The faring has been tossed and the bike has had some unique changes to it. I am showing the drive side of this motorcycle as I think that the stock photo that everyone has to show off the pipe.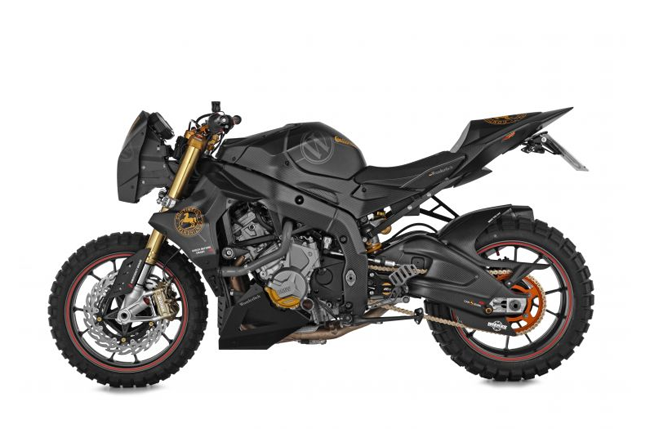 You will find Ohlins suspension, a sweet set of Moto-Master brake discs, Wieres a Magura handlebars and a stainless steel exhaust system from Remus specifically for this project. Changed footrest position, differently designed seat and various other changes to the motorcycle with some unique graphics. You can check out the gallery below.
Related posts: