Let's talk about Chopper City USA Bobber Motorcycles by Dave Welch. They make some amazing bobber motorcycles and choppers. USABobbers.com is not for choppers, all I care about are bobbers and the retro look they bring back to the world. I love the look of ape hanger motorcycle handlebars. I am kinda undecided if I like the peanut motorcycle tank or the wider tanks you will find on Japanese bikes like the V-Star 650's.
I am a fan of black motorcycles (wait for it), BUT I like to get noticed when I am squeezing and pressing the brakes. I like the rear brake like but wish it was on both sides.  As far as the seat goes, I love the hand stitched iron cross detail on it as well. This is a great looking bike. The downside of this bike is that it starts at $18,995 which is massively out of my price range. They do have one other bike that is named the Jess Rooke Design it is Numbered & Autographed built by Swift Motorcycle, please check it out. The paint job is amazing but it is a pricy bobber motorcycle selling as $21,995. Kinda funny to think that veterans built bobbers for under $1,000 in the 50's. Right now a veteran has no hope of buying this bike unless they saved their money.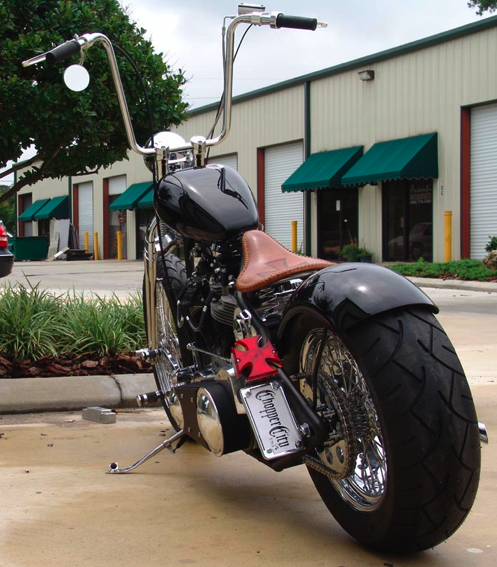 Lastly the website leaves much to hated about, it is not easy to get around on and it looks like they did their website about 5 years ago and have some black hat SEO in it as well. It took me awhile to find things on it and that they do not make parts you can buy. So if you are looking for a complete bobber motorcycle this is the site if you live near Florida since they are located at 120 College Dr #A Orange Park, FL 32065. You can call them at 888.721.1969 toll free.