Is this a sweet bobber motorcycle or what? There are so many features I do not even know where to start. I really dig the handle bar grips, check out the photos below so you can see how cool they are. I really like the front tired with the white wall stripe on it. I think that the beautiful red motorcycle frame powder coating along with the matching paint on the rims has set this motorcycle down the right road. The powerful 88 cubic inch Rev Tech EVO motor with the Martin Brothers Exhaust with ceramic coating make this bobber sound powerful as it comes down the road. One the other side of this picture you will see that there is a 3 inch BDL open belt drive. I have always thought the open look is cool but I am worried that the open belt drive will rip my pants off.
This bobber is not your old school but more current with a 200 rear tire on a 21 inch rim. This is a rigid frame that can be sore on your butt. To make it a little more comfortable the solo seat has some great shocks on it. The solo seat has some great leather work design work on it that I think is really cool.
The transmission is a 6 speed Rev Tech that is sooth and very comfortable. This bobber does have a custom gas tank and rear fender with custom airbrushed paint on fender and tank. The 14 inch ape hangers with 4 inch Choppers Inc risers do give a old school chopper look to it and that is cool. I really like the handlebar grips and you should check them out below. You will also see on the close up image of the front tire there is a Fly Right front disc brake and caliper that is really beefy.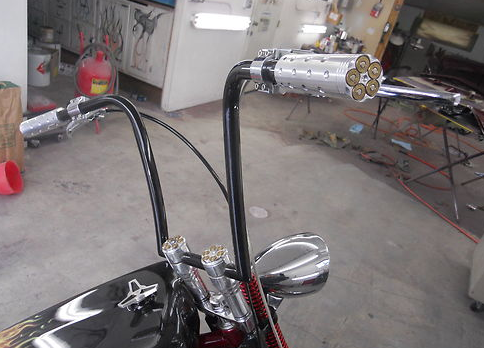 Overall I would rate this bobber a 4.5 out of 5. There is a rear light on this motorcycle but that is only on one side. There is also no mirror for this bobber. To me that is a huge safety issue.
Related posts: