So today my wife Mrs. S told me that since I am such an extreme guy that I should look for an extreme bobber motorcycle. So I started looking around for extreme bobber motorcycles and I found this sweet little bobber motorcycle.
Would I ride this bobber motorcycle? Heck yeah I would, since the knobby tires remind me of WW2 bobber motorcycles and the green paint is great and I love the ape hanger motorcycle handlebars.
I think I might be able to create this extreme bobber motorcycle out of a Kawasaki Vulcan 800 Motorcycle as soon as I can afford the bike and the parts with the paint.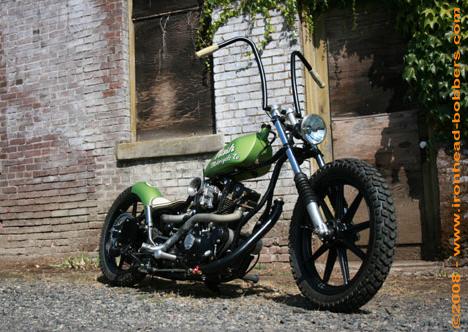 Marlin of Nash Brothers Motorcycle Company in Vancouver, Washington, United States made available these pictures of their extreme hardcore Bobber which they classify as "Street Chopper No. 9", and which is powered by a completely overhauled 1975 Harley Sportster XL Ironhead 1000cc V twin engine.

The overall build time of this Nash Bobber was 3 months. The frame is a stretched custom by NMC and has a 35 degree rake. The front fork is a narrow glide, stock length, with Harley Davidson triple trees. Those handlebars are NMC's signature "Midget Gimp" hangers.