So I had this great little Harley-Davidson Bobber sent to me the other day and was really impressed by the paint. This is a really great example of what you can do and I am really impressed. I think that the paint can set a bobber's entire life. Yes I do think that a motorcycle has a life and they all need to be taken care of and cherished. This French Harley bobber motorcycle has a wonderful look all its own. I respect the heck out of this bike. It was built by DUB PERFORMANCE and while I do not have the tech specs on this motorcycle we can look it over from front to back and talk about it.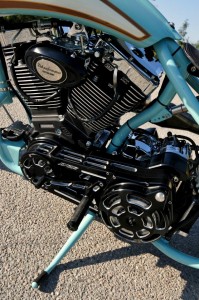 When you look at the rims I see the brushed steel with the gold spoke caps that add some flare. I always do love dual front brakes, why anyone would go with only one front brake boggles my mind. This bobber does not have a front fender but I like that the front forks have a little bit of color to them. The main point of safety for me that this bobber is missing is the mirrors, I have to have at least one mirror on my motorcycle. I am a safety kinda guy and since I teach safety I have to live by what I teach.
I like the turn signals that are integrated into the handlebars. I want to do that on my motorcycle. If we look at the details that went into the engine and transmission cover I think you will be as impressed as I am.
Below we can see the work in the exhaust and in the engine work. I really think that the first thing you will see if this bike comes rolling down the road is the frame. The frame, mainly the downtube really sets this bobber off for me. I do think that the kickstand is really cool, rare that you see a painted kickstand.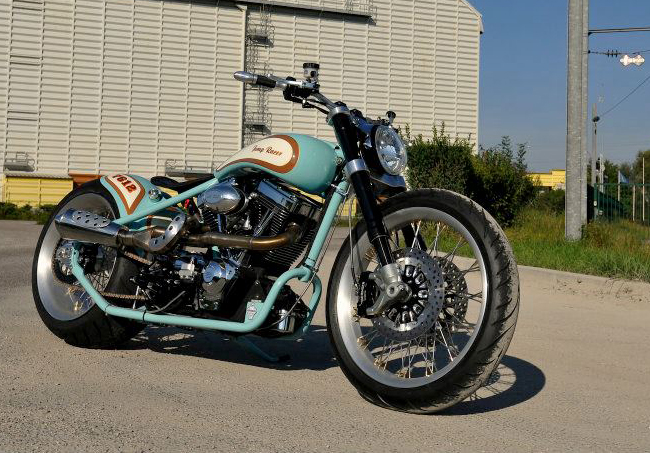 Overall I have to rate this bobber a 4 out of 5. The mirrors, the front fender, better rear brake lights, rear turn signals. I think that this bobber motorcycle is nice, I just wish it had the safety equipment on it. If it had that it would be a 5 out of 5.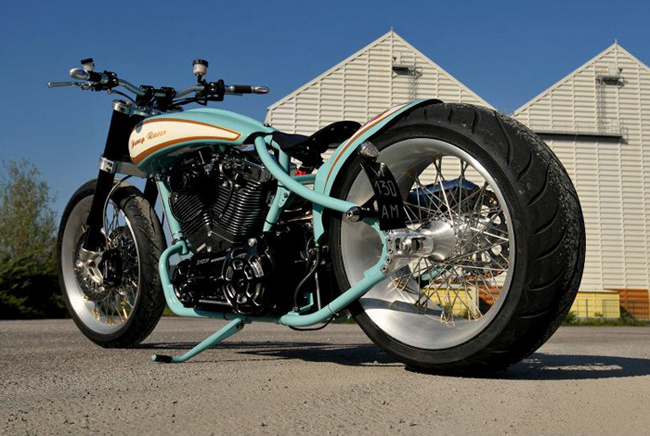 Related posts: