This is truly a futuristic Russian bobber motorcycle. I have never seen such a bobber like this before and I think the look and some of the features are amazing. When you see the wheels you will see the full rim disc brakes that are very well done on a CNC machine. The black and white paint that is amazing in contrast in front of Saint Basils Cathedral on Red Square in Moscow, Russia. I am impressed that the shifter is on the right side as you can see. I do like the solo seat and the naked rear tire. If you notice the exhaust it empties out right under the down tube behind the front tire.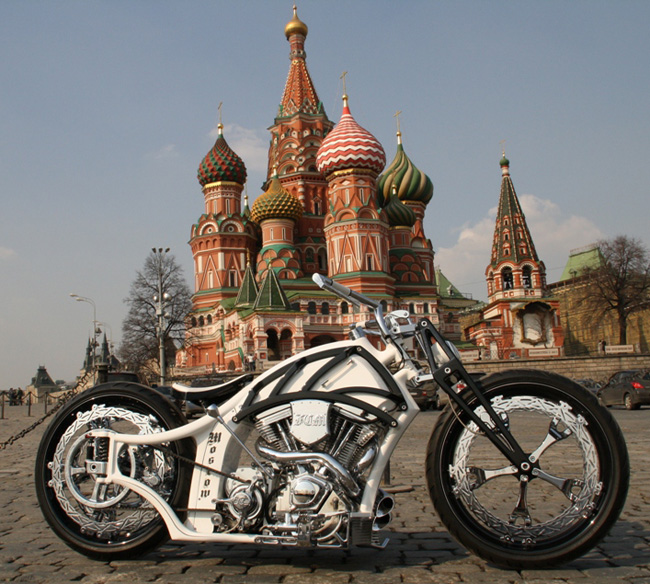 One of the first things I see is the inverted hand controls on the handlebars. I also see that all the hand controls are hidden. There are no cables or hydraulic reservoir that can be seen. The matching skinny tires are really cool to me, it has been a long time since I have seen a bobber with matching tires. I think that the rims and the right side belt drive is very unique.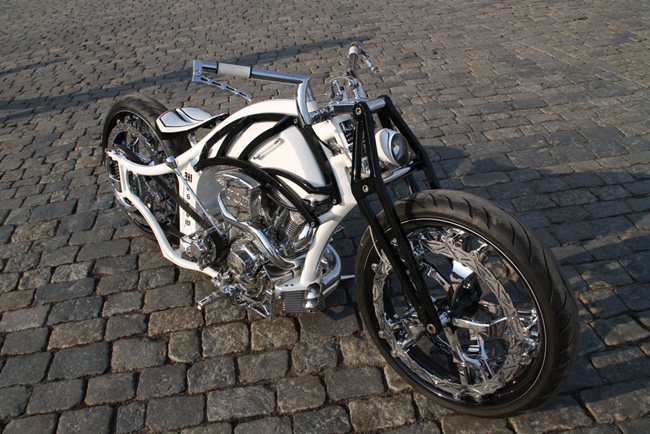 Check out the rest of the photos below and let me know what you think of this awesome russian bobber motorcycle.
On the quality of this bobber, it is stellar. This bobber is not safe in many states in America sadly as most states require a front fender, rear fender and mirrors. On the build level this bike is awesome, overall this bobber motorcycle is a 4.2 out of 5 as I need the safety factors built into it.
Related posts: