What we have here is a 2006 fuel-injected 1450cc Heritage Softail that has been turned into an amazing bobber. The pictures speak for themselves in this instance. I like the green and silver with the gold accents. When I look at the details I see that the fork and frame have been painted. I love the air intake that has the gold look to it. I think that the exhaust is really cool with the wrapped two into one with a chromed out flange exhaust. I would ride this bobber motorcycle in a heartbeat around town. I would want to add some mirrors to make it safe and street legal in Utah. I do not know of a state in the USA where you can get away without a mirror on your motorcycle.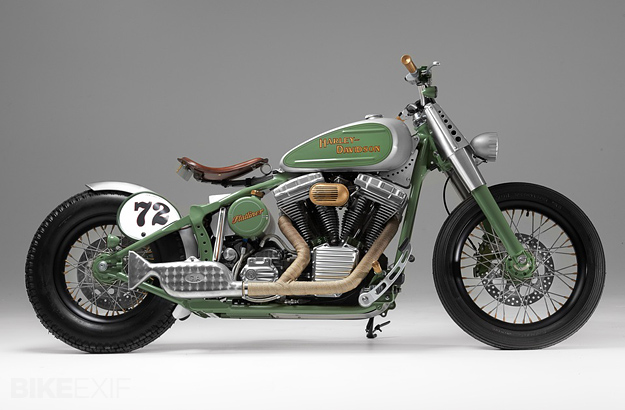 I think that the number 72 on the front looks like a dirt bike and on rear fend it adds a touch of class. I think that the seat is a great color as well. I don't see any motorcycle mirrors and that is an issue for me but overall that this bike looks sweet. I really like the paint scheme that is on this Heritage Softail Bobber. I this that the accents really set it off in the overall look. I do think that the lights on the underside of the handlebars are kinda neat.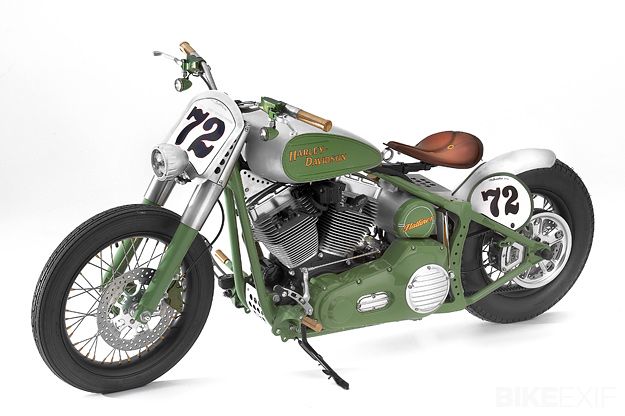 I think that the hand controls are awesome, I do not see a speedometer though. I think that the handlebar grips are really unique in the sense that they look like dirt bike grips. I wish I could see some gauges on this bobber motorcycle. I do this that the thumb controls are interesting and I would like to know how they operate.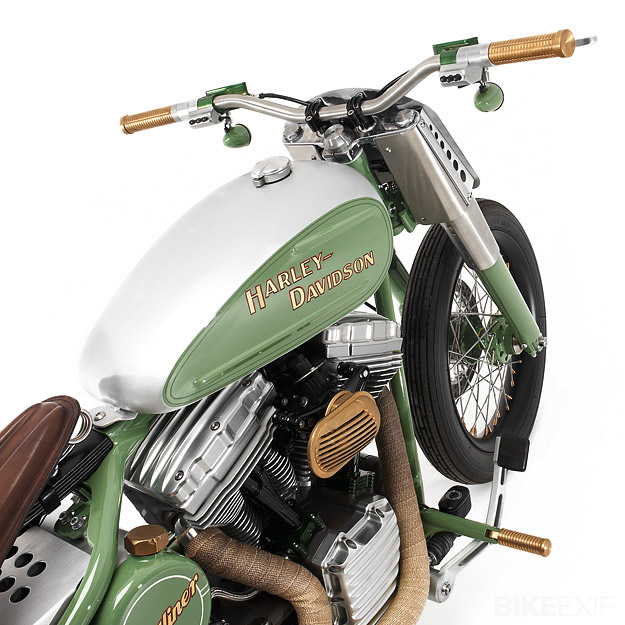 Does anyone know how this seat was done? I am loving this look of the leaf spring on the solo motorcycle saddle. I have never seen leaf springs used like this before and I am really impressed  that they were incorporated into this bobber. I like the brown leather on this saddle.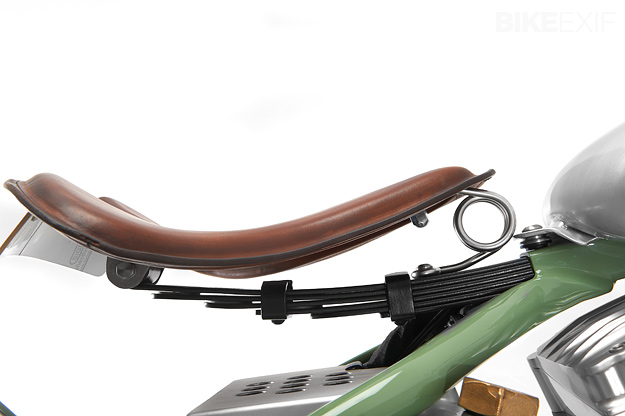 Overall if this bobber motorcycle had mirrors it would be a 5. Without the mirrors it comes in at a 4.9 out of a perfect 5.