Gulf Oil was a major global oil company from the 1900s to the 1980s. The eighth-largest American manufacturing company in 1941 and the ninth-largest in 1979, Gulf Oil was one of the so-called Seven Sisters oil companies. I love logos, I used to work in graphic design and I have to say that iconic graphics make me want them. I envision a man cave where I can sit on my couch and have my bobber sitting within arms reach resting my feet on my engine block table. As we look this bobber over we can see the matching rims, the painted frame and that awesome exhaust. The tank is what makes me like this bobber the most. I wish the rear fender would have been cut down a little bit.
For safety I would like to see mirrors or at least a mirror. I think that the rear brake light should be on both sides. I like the solo seat but I think more could have been done. I like the handlebars.
The Harley Davidson Ironhead, was they type of engine that ran on the sportster from 1957–1984. It has both a 883 cc and 1,000 cc engine. The Ironhead overhead-valve engines with cast iron heads, K series frame are long and reliable. The engine is a two cylinder, two valves per cylinder, pushrod V-twin. It was produced from 1957 until 1985 and was replaced by the Evolution engine 1986.
So after looking this bobber motorcycle over I would have to say this bobber is a 4 out of 5. I just want to see some more safety things to help the idiots in cars see me and to help me see them.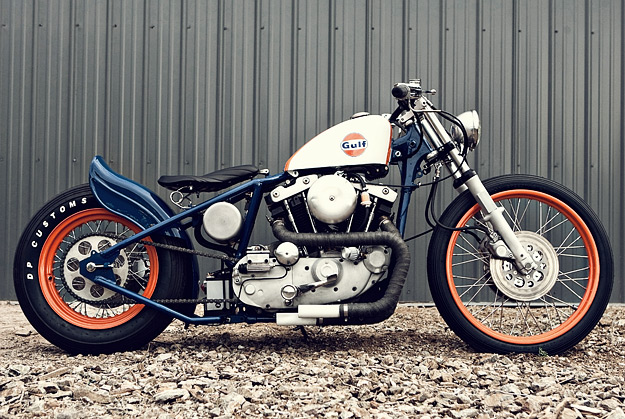 Related posts: