I really respect the Knuckle Head engine. It was on the first motorcycle I ever owned, it was a pain then and I learned a lot about it, I also got the chance to buy tools and what guy does not like tools? I think that the springer front end looks stellar, the rake on the front end is far out there and from the way we you have to site and then lean out to grab the handlebars I would feel that it would be difficult to ride.
The Mobile Pegasus is cool, I talked about the Pegasus briefly on the Whiskey Tango Yamaha Copper Bobber Motorcycle yesterday. Looking at this bobber I like the style of the exhaust pipes, the wrapped exhaust into the chrome ends are really a nice touch. I think that the silver paint work is nice. The red Pegasus, the red leather solo saddle and the red handlebar grips are awesome. Any motorcycle that has a kickstart speaks volumes of the old-school factors to it. I really like this bobber and I wish I had it in my garage. I rate this bobber a 4.5 out of 5 and I really want to ride this bobber.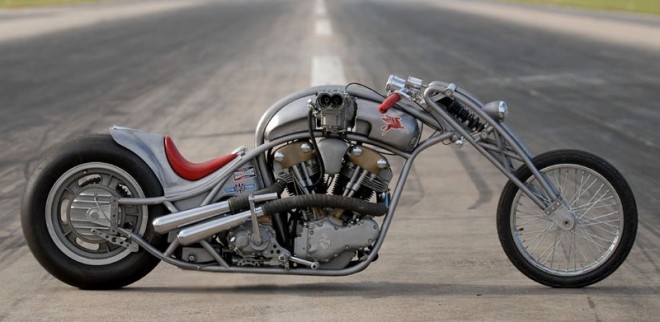 A little history on the Harley-Davidson Knucklehead engine:
The knucklehead was a Harley-Davidson motorcycle engine, so named because of the distinct shape of the rocker boxes. The engine is a two cylinder, 45 degree, pushrod actuated overhead valve V-twin engine with two valves per cylinder. It was the third basic type of V-Twin engine used by Harley-Davidson, replacing the Flathead-engined VL model in 1936 as HD's top-of-the-line model. The engine was manufactured until 1947 and was replaced by the Panhead engine in 1948.The Knucklehead-engined models were originally referred to as "OHVs" by enthusiasts of the time; the nickname "Knucklehead" arose from the California chopper culture of the late 1960s.

As the design of Harley-Davidson engines has evolved through the years, the distinctive shape of the valve covers has allowed Harley enthusiasts to classify an engine simply by looking at the shape of the cover. A knucklehead engine has round knobs on the cover resembling knuckles that give the knucklehead its name.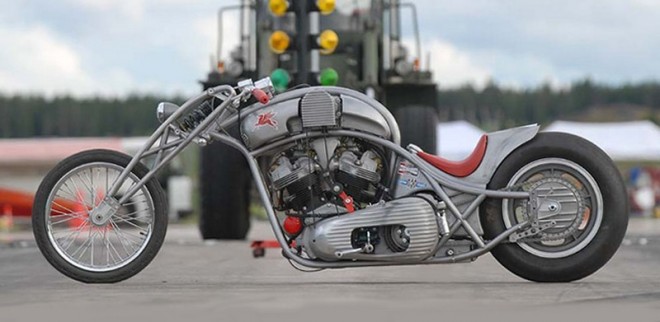 Submit your bobber motorcycle here.
Related posts: