Out of the Netherlands this is one amazing looking motorcycle from the guys at Thunder Alley. They sent me bunch of great photos and I do not know where to start. I know that streetfighters are the rage in Europe and I think they will become much bigger in the states in the next few years. This motorcycle looks really cool.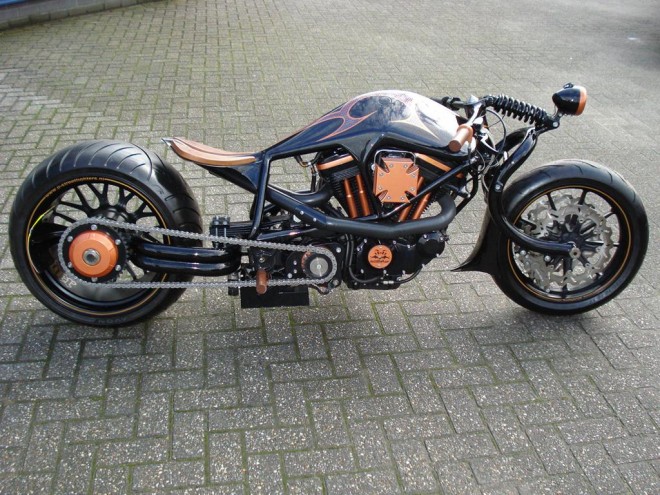 We can see that this motorcycle sits super low to the ground. I think that is a wooden split seat that we can see. The black and hint hint of orange really brings a cool look. I know nothing more about this motorcycle other then it is a Harley-Davidson engine. As we can see the frame is a one off and the fork is an engineering wonder. I have no clue about this bike other then at is wicked freaky.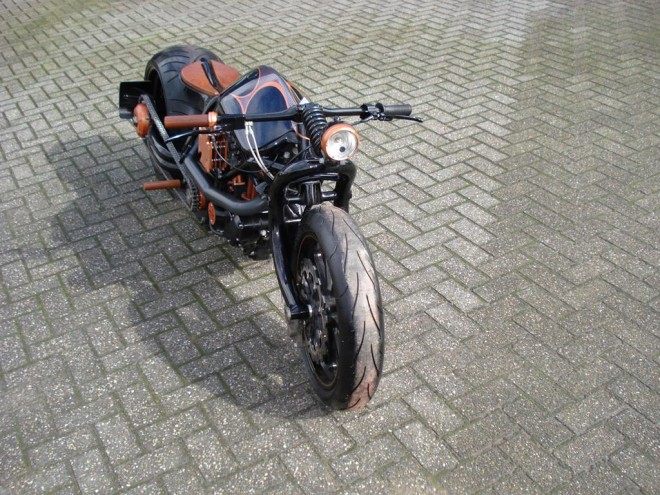 The orange detail on the engine and the air intake is super cool. I do think that wrapping the exhaust around and under the seat looks cool. I think that as people ride a cool motorcycle they want to see a really cool bike that has the details that will catch the eyes of anyone that sees it.
I am not going to rate this bike as it a pure show bike that shows off the skill of the builders. I would love to take it for a spin on the California 101 up the coast though. Such a pretty bike.
Related posts: