I saw this motorcycle and my wife had to almost end up giving me mouth to mouth to bring me back to life. Talk about a great motorcycle. This motorcycle has an amazing paint job, is a hard-tail motorcycle frame with no front fender and the classic brown leather tractor seat. I like the Bobber Motorcycle Exhaust Pipes with the wrapped pipes going into the black paint. The Shovelhead is an air-cooled, 45 degree, V-twin motorcycle engine manufactured from 1966 to 1984 by the Harley Davidson Motor Company. It has 1,208 cc (74 cu in) of displacement and, after 1978, was increased to 1,340 cc (82 cu in) for Harley's Big Twin bikes. I am not sure what year this is from. If any of you know what year this Harley Davidson Shovelhead engine let me know.
Lets talk about the fuel tank – it has three freaking holes! How freaking cool is that?!?!?! This bobber motorcycle has a great example of a great paint job. The orange with black and cracked white pain on the fuel tank, rear fender and oil tank is amazing.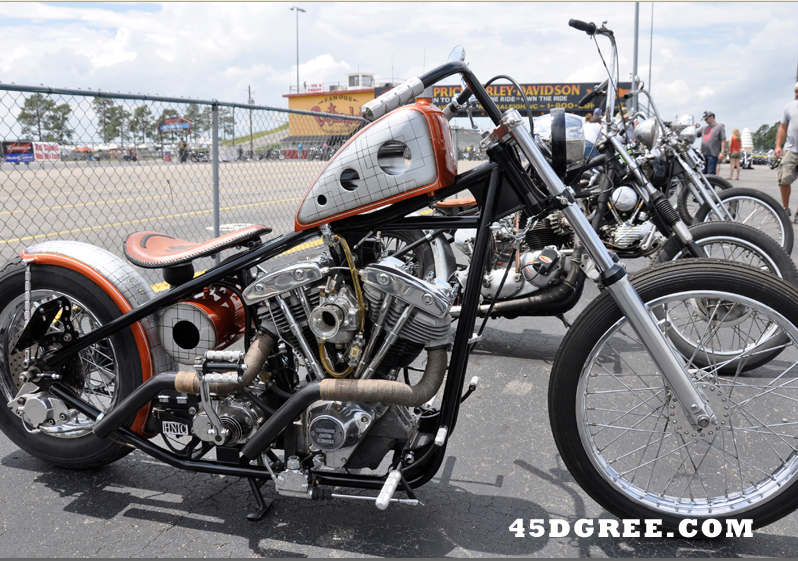 When I look at the close up view of this image I am blown away by the metal work. I know some of you will say that "hey dude, it's just three holes". Well I like it, I like the look, and the paint texture of the paint job. The overall work the has been done to this bobber motorcycle is amazing. I would like to see a saddle bag and I am a fan of the front disc brake. Without these two things I would rate this bobber motorcycle a 4.1 out of 5.