We have a classic Honda CB350F Bobber Motorcycle. The Honda CB350F is a four-cylinder, four-stroke, 347 cc motorcycle based on the larger versions of the day and was thought of as Honda's "one-up" to the other motorcycle companies. It was manufactured in Japan from 1972 to 1974 and was "the smallest capacity multi-cylinder motorcycle ever to enter into full-scale production." I have always thought that the best bobber motorcycle would be the smaller engine bike. That way you have a light bike and is easy to maneuver around.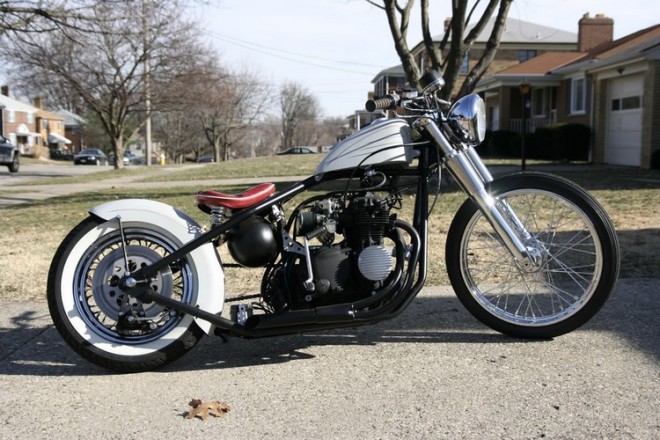 As we look this bobber over from the front we can see the front fender as usual is gone. It looks to me that most of the parts on this bobber are still stock. I think that the paint job on the tank and the rear fender is simple with the pin-striping but that is what a bobber is supposed to be.
I have seen many bobbers that are not simple. When veterans returning from WW2 were coming back all they wanted was a simple motorcycle that could get the job done. Now we all see these bobbers that cost more then $30k and that to me is crazy. A bobber motorcycle is supposed to be simple and easy.
Overall I like this bobber, I really like the solo brown leather seat. I do see a rear brake light but that is it. I wish there was some turn signals on this motorcycle along with mirrors. I have to rate this bobber a 3.5 out of 5.
Related posts: