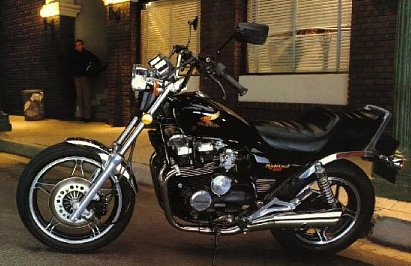 The 550 Nighthawk was a "one year wonder" (as far as its production in the United States, anyway. I have learned that there was a 550 version of the Nighthawk sold in Canada in 1984–and perhaps other years–called the CB550SC-E. The Honda engineer's couldn't decide whether the Nighthawk was going to become a sport bike or a cruiser, so it appears they decided to put both personalities into one machine.
This bike came in two colors; Candy Presto Red, and Black. The headlight was rectangular, and the exhaust system was a 4 into 2.
This is a great 1983 Honda CB550 bobber motorcycle. This is a rare, one of a kind bike that was only made for one year. It is a DOHC four cylinder bike with a 6 speed gearbox and tons of power. In the factory they could not decide if they wanted to make it a sports bike or a cruiser so they made it both. They wanted to prove that you dont have to sacrifice power to have a cruiser.
It claims 64 horsepower, but in testing, the bike actually made 74 horsepower @9500 rpm. And that was stock. This bobber bike now weighs two thirds what is did originally, and has a bit more power. The mods it has currently are pipes, and air box delete with UNI pod filters.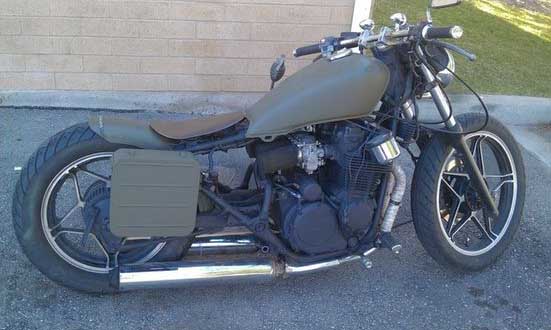 The custom fabrication parts are as follows:
Grenade handle suicide shifter (yes, it works flawlessly)
Drag style handlebars
Hardtail rear frame
Pan seat
Headlight on/off switch
Lowered about 8 inches
Almost the whole bike has been rewired and wires have been tucked for the most part
Ammo box battery holder
Custom made rear fender (not currently installed)
Forward foot rests and brake controls
4-2 exhaust system
New throttle cables from Motion Pro
Honda Goldwing clutch lever and master cylinder (great, smooth clutch operation)
Shorty kickstand
LED brake and rear turn signal lights
Overall this bobber has a good overall look to it. I does have a mirror but that is where it stops on safety. I like the hand grenade suicide shifter and the ammo can battery box.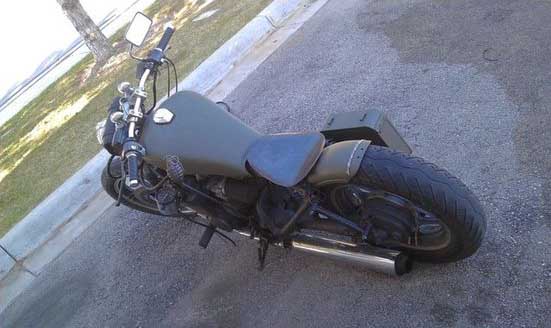 Something about the OD Green paint job and the star wheels almost wish the paint job had a bit more military paint job.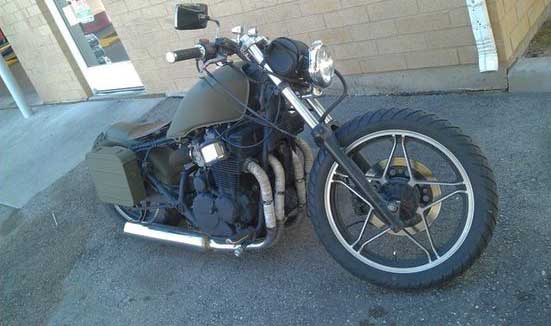 So when I have to rate this bobber, I look at safety first as always. I would rate this bobber at a 3.9 out of 5 based on the paint job. I would have liked to see a few more accent pieces/
Related posts: