This is a pretty sweet little bobber motorcycle. You could also take this bike out for a perfect sunday ride. Where I live in Utah I can be at the canyons in 20 minutes and let's get real that is we ride. The canyons are awesome, I do not know anyone that likes to ride long flat straight sections of highway. Motorcyclists like to take the turns and enjoy leaning a motorcycle over and rolling on the throttle. The Honda CX500 bobber motorcycle is a great bike. I really like this little bobber. As we can all see it has a great paint job on the frame, and fuel thank. I do think a great paint always add class to any motorcycle.
What I like the most about this bike is the frame. I like the open space under the saddle. The low bar and the wrapped exhaust.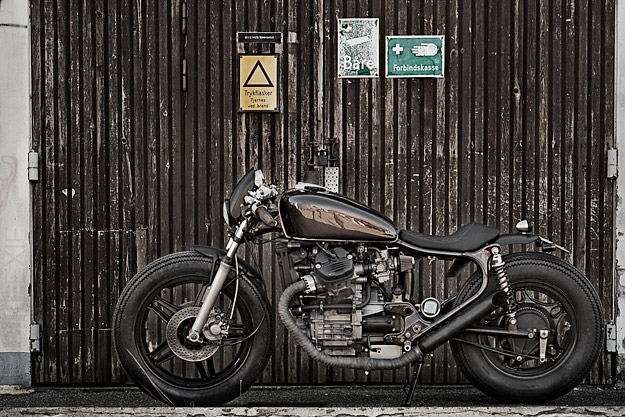 I am not a big fan a cowling, but it's just a small cowling so it's cool. The brown hand grips and the matching brown paint do help the look of this bobber. The Honda CX series of motorcycles, including the GL500 and GL650 variants, were developed and released by Honda in the late 1970s, with production ending in most markets by the late 1980s. The design also included innovative features and technologies that were uncommon or unused at the time such as liquid cooling, electric-only starting, low-maintenance shaft drive, modular wheels, and dual CV-type carburetors that were tuned for reduced emissions. The electronic ignition system was separated from the rest of the electrical system, enabling the motorcycle to be push-started and ridden in case of a total electrical system failure which was awesome. As we can see below there is a awesome oversized fron tire and that is more of a throwback of older bobbers of the 50's and 60's. The Wrench Monkees out of Denmark fixed this bobber up and did one heck of a great job, If I lived in Europe I would give them a call.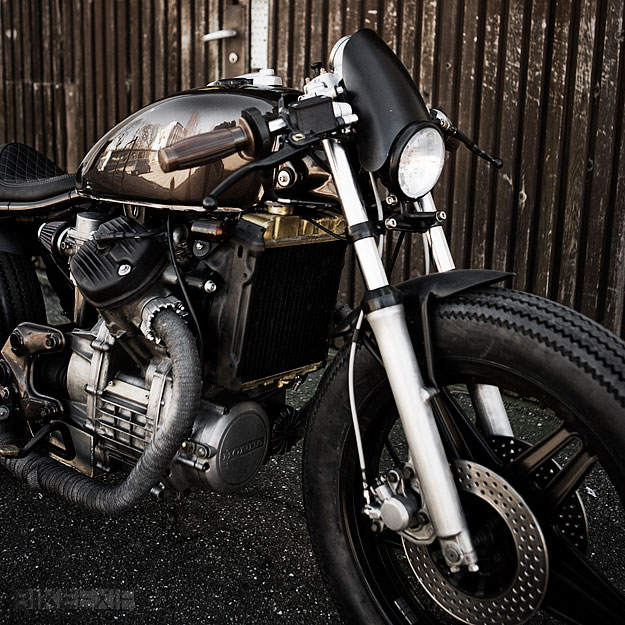 Overall I love this bobber but I have to rate it at a 4.9 out of 5. There are the rear brake lights that I think are perfect but I do not like the fact that the mirrors have been taken off. If it would have had the mirrors I would have given it a perfect 5 out of 5. If you would like to submit your bobber motorcycle please do so.
Related posts: