Time to time I am always looking at the Japanese bobber motorcycles they come out of four major brands:
Honda Bobber Motorcycles
Suzuki Bobber Motorcycles
Kawasaki Bobber Motorcycles
Yamaha Bobber Motorcycles
I have been looking at many of them and I saw a Honda bobber motorcycle while I was out shopping today.  Sadly I was unable to get a photo of the bobber but it was a 1980's Gold Wing that was awesome. Below are some really cool Honda Gold Wing bobber motorcycles. Just to let you know the Gold Wing motorcycle was brought out in 1974 and has been blazing a trail since then.
1976 Honda Gold Wing Cafe Racer
This is a sweet cafe racer. This has a great paint job and a look to it. The cafe racer is iconic, it is a motorcycle that you see all the time, it for all intents and purposes is the horse of fairy tails of old. When I used to date women, the cafe racer helped with that. It got the girl many times, motorcycles and leather help get dates all the time. The red frame on the black paint with the tank art is awesome.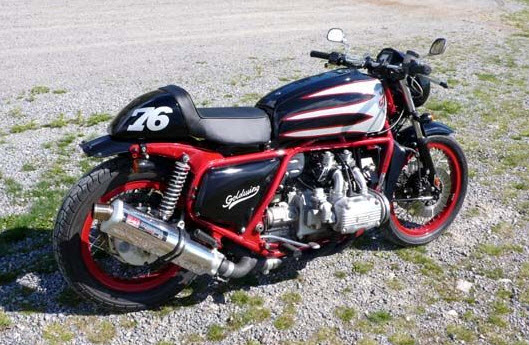 1976 Honda Gold Wing GL1000
For some reason the 1970's Gold Wing's are a great bobber. Some history on the Gold Wing GL1000 is:
Although the GL1000 was listed as a touring motorcycle, it was sold without fairings. Soon, a market developed offering fairings and luggage accessories, including the Windjammer series by Vetter Fairing Company. With only minor differences for different markets, the model remained virtually unchanged during the 1975 to 1977 production run. In 1978 many changes were introduced, including changes to the faux tank shape, instruments on the top of the faux tank, seat, camshafts, carburetors, exhaust system, Comstar wheels, and removal of the kickstart.

During the final run of the GL1000 in 1979, Honda included their own saddlebags and trunk, but still did not offer a fairing. Honda sold more than 97,000 units of the GL1000 in the United States between 1975 and 1979.
This is a great bobber, it has the classic gold paint on black. The fairings are short the handlebars have been changed and the exhaust is awesome. I have never seen a motorcycle exhaust like this before. This is a great Gold Wing bobber motorcycle.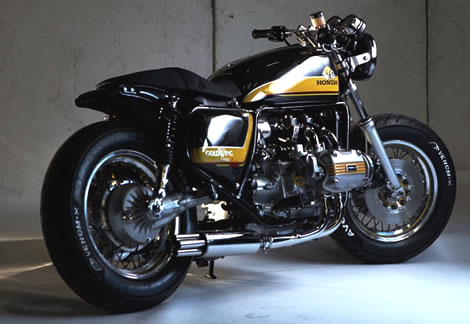 Overall I think that the Gold Wing bobber motorcycle is awesome, tons of power, great looks and there are tons of parts that can be bought online. Since the Gold Wing has been around since 1974 many have turned their Gold Wing into a bobber. Have you turned your Touring Gold Wing into a bobber motorcycle? If so let me know below.
Related posts: