When I think of a bobber motorcycle I think of standard and metric type. The European or Japanese metric motorcycle adds value to the bobber motorcycle community. Below we have some metric bobber motorcycle conversions done by Blue Collar Bobbers. They sell parts that allow you to convert your motorcycle to a bobber motorcycle with ease.
Honda Shadow 750 Aero Bobber Motorcycle
First off we have the Honda Shadow 750 Aero Red and Black Bobber Motorcycle. The classic lines were kept and were enhanced with the cut motorcycle fender. The entire motorcycle is wrapped up with a great paint job.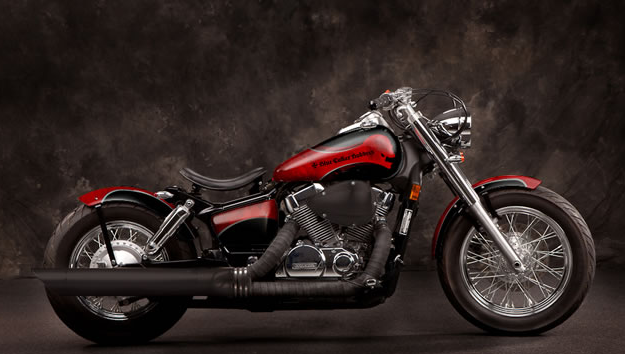 Kawasaki Vulcan 800 Bobber Motorcycle
Here we have the Vulcan 800 Red Bobber Motorcycle that has been converted to am amazing bobber motorcycle. The wrapped pipes into the chrome set this bobber motorcycle off. The brown leather motorcycle seat matches the wrapped pipes.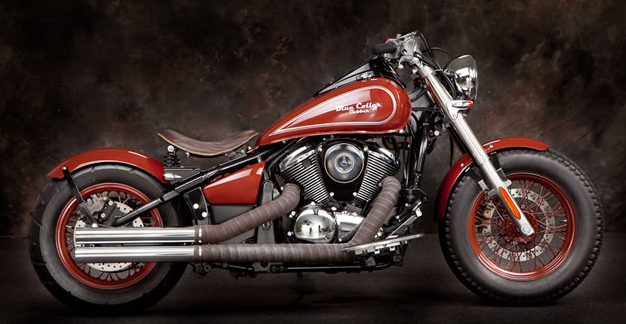 Suzuki Volusia 800 C50 Bobber Motorcycle
This amazing Suzuki Volusia 800 C50 motorcycle in black and blue has been converted to a stellar looking bobber motorcycle. The 3-tone paint job  really shines on the tank. Blue Collar Bobbers has done wonders with this Suzuki Volusia 800 C50 bobber motorcycle.
Suzuki Savage S40 Bobber Motorcycle
Brown and Yellow Bobber Suzuki Savage S40 motorcycle looks stunning. The custom paint on this bobber motorcycle is great. I love yellow on a motorcycle and this Suzuki Savage S40 does it for me.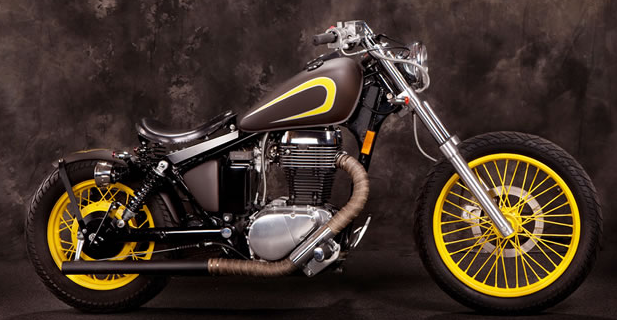 Yamaha XVS650 Bobber Motorcycle
This Yamaha XVS650 Bobber Motorcycle in green and black has a great old school fat front tire on it. When I think of a classic Japanese metric bobber motorcycle this is the motorcycle I think of.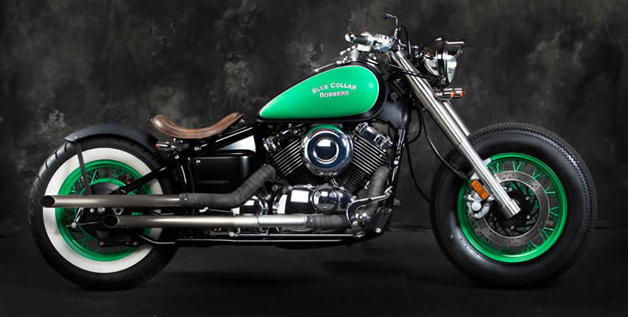 Please leave a comment below and check out the guys who make these Bobber Motorcycle Kits.