Even though sales figures for different types of helmets are difficult to come by, it has not gone unnoticed by industry observers that modular motorcycle helmets have been rising in popularity over the last few years. Modular helmets, also referred to as 'flip-up' helmets because you flip or pivot the chin-bar of the helmet upwards to expose your face. In the following paragraphs we investigate why they are becoming more popular.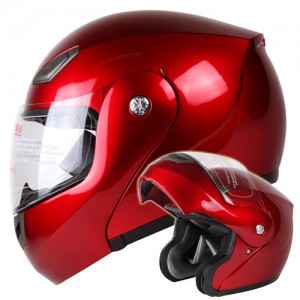 To understand the rising popularity of modular helmets in the motorcycle gear space, we have to look into the advantages that they come with. Naturally, many riders find that these helmets fit their personal style more than full-face and open-face helmets. However, the biggest factors that are attracting riders to modular helmets are the following:
Offer More Protection than Open-Face Helmets – The chin bar of flip-up helmets is meant to be pulled down when riding, which makes modular motorcycle helmets almost as safe as full-face helmets, and provide for more protection than open-face helmets. Open-face helmets expose the rider to the risk of possibly facial injuries if involved in an accident. With a modular helmet, you drastically reduce the risk of injury to your face, including to your chin and forehead.
More Convenient than Full-Face Helmets – This is the biggest single factor that is making many full-face helmet wearers switch to modular helmets. Since it allows the rider to raise the chin-bar whenever they have stopped for a break, a modular helmet is much more convenient than a full-face helmet. Without having to take off your helmet you can talk to the toll-booth attendant, show your face for identification, and do a hundred other things that would require you to take off your full-face helmet. With modular helmets, you just have to flip the chin-bar upwards to get the convenience of an open-face helmet.
Especially Convenient for Riders who Wear Glasses – Even though it is possible to wear glasses under the full-face helmet of course, and many of us do indeed wear them, it is an inconvenience to have to continually remove and replace them. Many others find it almost impossible to wear glasses with their favorite full face helmet. This problem does not arise with flip-up helmets because they are almost like open face helmets when their chin-cover is pivoted upwards. It is not just possible to wear glasses, it is quite convenient too. It is as if these helmets were designed for wearers of glasses.
Modular Helmets are now being made by Major Helmet Manufacturers – This point is not as much about the advantages of the modular helmet, as about the advantage that comes from branding and trust. Many popular manufacturers and brands have offered modular helmets in the market. For example, Bell Sports has launched the Bell Revolver EVO, which is the modular version of its popular full-face helmet Bell Revolver. Other popular modular helmets are: Shoei Neotec, Nolan N104 and Schuberth C3. All these helmets from are made by trusted names in the market, which attracts even more riders to modular helmets.
Modular motorcycle helmets are becoming more and more popular with riders who want the protection of a full-face helmet with the convenience of an open-face helmet. They are also popular with riders who wear glasses, whether they are prescription glasses or sunglasses. With these and other advantages that come from its convertible design, it is no wonder that modular helmets are rising in popularity.