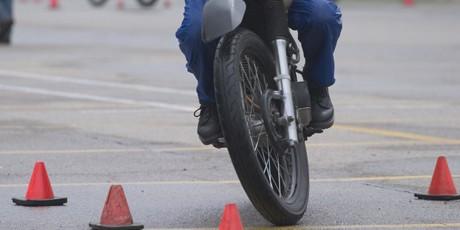 I'm new to the world of motorbiking and have only very recently passed my tests. I am therefore well aware of the anxiety involved in passing your theory test. Thankfully I managed to pass first time and I would like to share some knowledge with you fledgling bikers out there, nervously preparing for your tests. If you are looking for the path to theory test success, these tips will help you to save time and money, and hopefully help you pass.
Before booking your Motorcycle theory test, it is essential to do your research. I found that there are many ways to book your theory test and it is important to research all of your options before you commit. The simplest way to book and prepare for your test is to go online.
Making an online theory test booking is simple and I did this in a couple of clicks from the comfort of my own home. Booking online cannot only help you to save valuable time but it can also cost you less – and I'm always enthusiastic about saving money!
Once you have a date for your theory test, it is important to prepare. There will be a practise test just before you take your theory test but it is advisable to put in a few hours of preparation in the weeks leading up to your test date. I squeezed as much revising in as I could before taking my test, and believe me it was worth it.
You can purchase learning aids online to help you get road ready quicker and you can choose a learning solution that suits your specific needs. I picked up a selection of theory test books, DVDs and online learning materials and this certainly helped me pass my test first time. You can purchase a motorcycle theory test DVD that includes practise tests that mirror a real life theory test situation.
The theory test is made up of two parts: the multiple choice questions and the hazard perception test. Doing your homework will ensure that you are fully prepared for your test and allows you to familiarise yourself with the questions you will come across on the test, which cover all sorts of things that you may not be aware of before you revise. There were lots of things I learnt when preparing for my theory test. Now I know how to ride a bike, how to maintain it and I also found out things that weren't covered in the test, such as where to search for motorcycle hire and where to find good value bikes for sale.
On the day of your test, make sure that you read every question with care and do not be tempted to rush through the test. Make sure that you know the location of your theory test centre and that you manage your time effectively. Allow for unforeseen circumstances such as traffic and set off in good time.
Passing your test can be just as simple as booking your online theory test and these tips can help to take the stress out of the preparation test.
Author Bio: Amanda Revie passed her test last year and is now shopping for 125cc motorbikes to begin her life as a biker.
Related posts: