Women riding a motorcycle is cool to me. I think all guys look at a woman riding and we give them the respect that they have with riding a motorcycle entails. I do not know what motorcycle this is I know that the photo and press story were cited as of Sept. 15, 1937. This classic motorcycle is in front of the Lincoln Memorial which construction was started in 1914 with $300,000 and finished May 30th 1922. Sally was the first woman to get a motorcycle license in the District of Columbia. If we think about the time back then this had to be pretty scandalous for her.
I think she is riding an Indian but I am just not sure. There were so many manufactures in the early 1900's that it is hard for me to know. Maybe if you are a motorcycle historian you will know what type of motorcycle this is.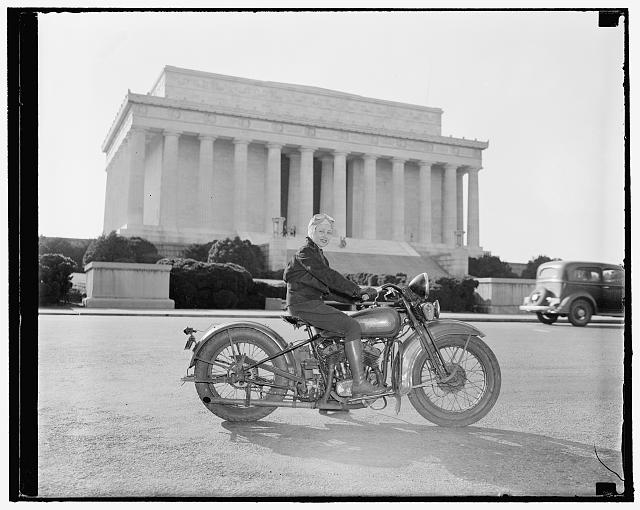 First of fair sex to obtain motorcycle license in Capital. Washington, D.C., Sept. 15 1937. Although she weights only 88 pounds–one-third of the machine she rides, Mrs. Sally Halterman is the first woman to be granted a license to operate a motorcycle in the District of Columbia. She is 27 years old and 4 feet, 11 inches tall. Immediately after receiving her permit, Mrs. Halterman was initiated into the D.C. Motorcycle Club – the only girl ever to be accorded this honor.
Submit your Bobber Motorcycle.