The Yamaha MT motorcycle line is not imported into the USA and while this is jacked up and I could not find a reason as to why, it makes me want one even more. Kinda like when your mom told you that you couldn't have the dessert early and that you had to wait. Why wait, enjoy the fun. This is the MT-01 from 2011 and made in Germany, For all of us over here in the USA we do not get this bike so I thought it would be kinda cool to show it here.
TheMT-01 is a motorcycle made by Yamaha since 2005, available in Australia, Europe, India, Japan and North America. It has unusual features with acruiser-style 1,670 cc (102 cu in) air-cooled, overhead valve V-twin engine but sportbike or naked bike style frame and suspension. The engine is derived from the Yamaha Warrior XV1700 and modified to suit application in the MT-01, while the forks and brakes are derived from the 2004 to 2005Yamaha R1.


Originally unveiled as a concept motorcycle at the 1999 Tokyo Motor Show, strong public interest in the machine led Yamaha to develop a production model, which was released in 2005. The Motorcycle Design Association (MDA) awarded the MT-01 the Open Category award at the 2004 annual Motorcycle Design Awards at INTERMOT. Since its release, the MT-01 has remained largely unchanged.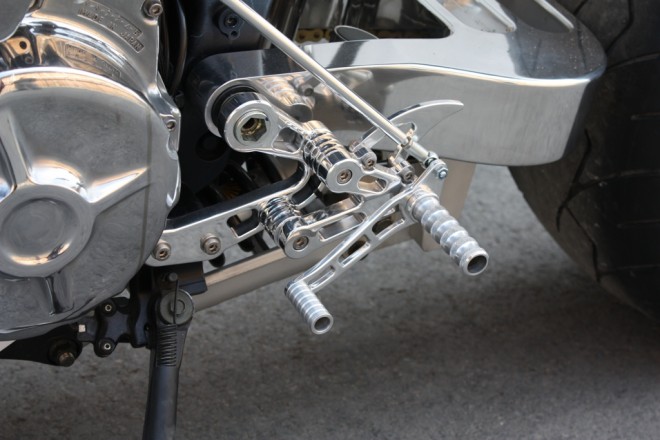 The Yamaha MT-01 displacement size is 1670cc and that is a whole lot of power. There is some sweet looking things on this motorcycle, to list a few:
360 rear tire

Front tire 130

RF-arm swing Biketech
Exhaust 2 in 1 RF-Biketech TÜV approved
XX-large front fork and handlebar with integrated counter
RF remote controls-Biketech
Rear aluminum headlight with LED lighting RF-Biketech
Polished engine covers
Indicators and bar end mirror
Overall I like this bike and I would ride it any day of the week. I think that Yamaha should import this into the USA and I would be glad to ride it for the fun and enjoyment of feeling the wind in my face.
I like everything about this motorcycle but and I would rate this motorcycle a 4.5 out of 5. I really dig the fat rear tire but in the overall sense of things this is not a bobber motorcycle and thus it cannot qualify as a bobber motorcycle.
Related posts: