Here we have a sweet 1982 Yamaha Virago bobber motorcycle that looks great. There are some safety concerns that I have but oh well we will talk about that at the end. This was Yamaha's first V-twin cruiser motorcycle engine that they made. The 1982 version was sold with a 750cc engine. The Virago was phased out for the V-Star and the last year a the Yamaha used the Virago name was in 2007. The bike was renamed in 2008 with the V-Star 250. I am a V-Star guy, I ride a V-Star and this was the beginning of that bike.
Below we see a great orange paint job, the tank and the oil tank have a great matching paint job. I like the chromed out engine and the seat that is matched to the frame. I like the drum brakes on the front and rear. I would like to see a break light on the right side of this bike. I am a safety guy and I want to see a mirror on the flat handlebars. The wrapped exhaust is nice, it adds a nice touch that is really clean look to it. Overall this would be a fun dry bike that I would not want to ride in the rain. I would give this bike a 3.9 out of 5.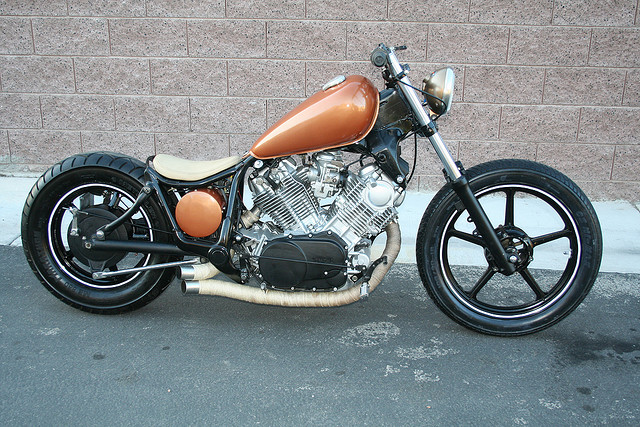 Submit your bobber motorcycle.