This is an amazing Route 66 Yamaha XS 650 bobber motorcycle. I like the white wall front tire and that they tossed the front fender. As we look this bobber over from the front to the back I really like the look. This bobber is made by a Back Alley Bobbers in Salt Lake City, Utah. So the tank is cool with the iconic Route 66 highway marker sign on it. I think that the rear fender matches the road paint job on the tank. I think that the black leather solo saddle with the white stitching is really classic. The nice straight pipes that have been covered in white motorcycle exhaust wrap for the most part are really nice.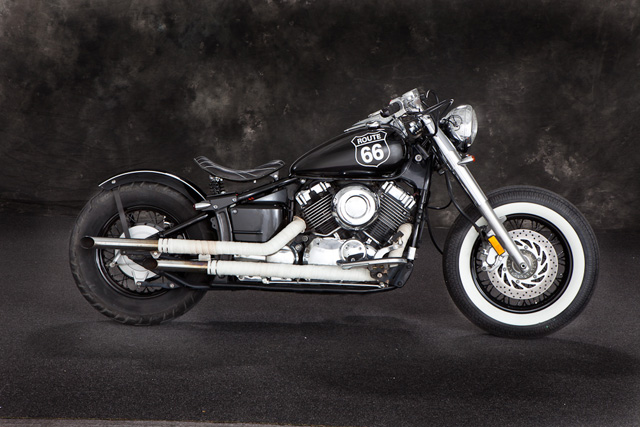 This bobber motorcycle is lacking some key safety items for me. I would like to see some rear view mirrors and a rear brake light on the pipe side of the bobber. Overall I would rate this a 4.7 out of 5. If this motorcycle had those two things it would be a perfect 5.0 bobber motorcycle.
Photo Credit. Submit your bobber motorcycle.
Related posts: