This sweet bobber motorcycle was sent in by Tim Purton. He has had this bike since 2008 and has changed a ton of things on it to give it that bobber look. He gave it the Anarchy paint job with the flat blak paint on the tank and everywhere else. The handlebars have changed to RSD handlebars that have a nice rise to them. Not the huge ape hanger bars on this motorcycle.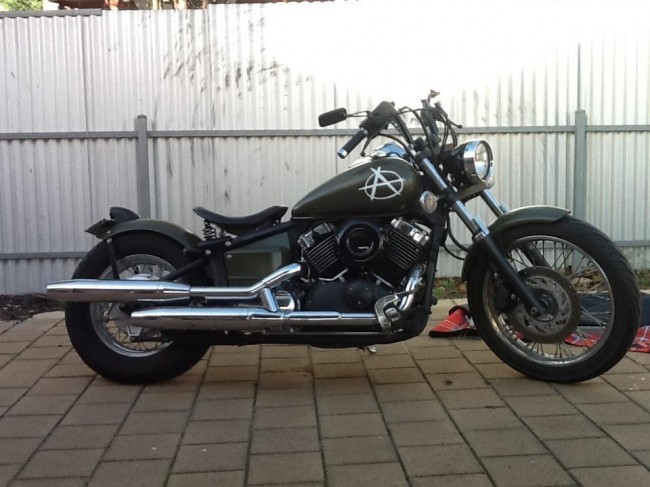 When Tim sent me this bobber I was surprised that he used Blue Collar Bobbers, I am glad cause they are only a few miles down the road from me. He used Blue Collar Bobbers for the rear fender and the solo seat. The carb was re-jetted, and the stock exhaust has the baffle taken out so it exceeds some states sound tolerances so be carful if you are traveling outside of your locality. Some police get very testy about noise laws in their areas. The tail light is a Sparto tail light.
Overall if you look below and compare it to the stock motorcycle you will see that this bike has had a good amount of work done to it. The only main thing I wanted to see on this bike was safety and that rear view mirror is there on the left hand side. Safety is a huge issue for me as the spring turns into summer and there are so many accidents on the road. May is Motorcycle Awareness Month so lets all watch out for each other, cars, and anything else that can move on the road.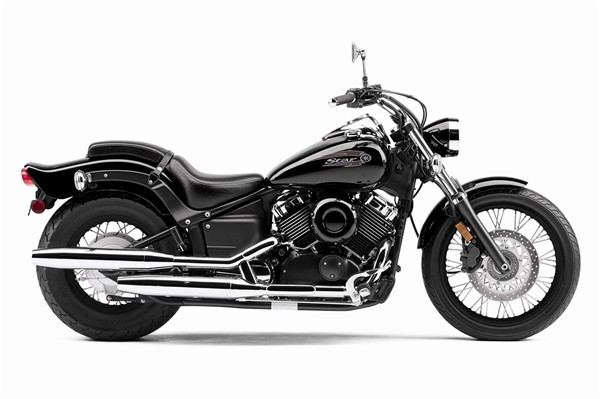 So after looking at this bobber I would rate it a 5 out of 5. Anyone who keeps the mirror on and the rear breaking lights while turning a motorcycle into a bobber deserves to have their bobber become a top 10 bobber of 2012.
Related posts: