Charlie Stockwell out of the famed Warr's Harley-Davidson founded on the Kings Road in 1924 by Captain Frederick James Warr built this motorcycle below. Charlie Stockwell has been working for Warr's Harley-Davidson since 1996, his desire is to bring together and to celebrate the creative culture and the unique lifestyle in hand built custom motorcycles & design.
Below is a very unique motorcycle that Charlie has named the "Unorthodox" and almost all of it has been handmade. He stripped down the Harley-Davidson Fatboy to the engine and the frame. The oil tank was pulled from under the seat and the frame was cut and welded to accommodate the new oil tank. If you look at the solo saddle it is made out of carbon fiber. I think that the dual exhaust system is awesome with a very new look but also houses the rear lights. I really like the look of the front forks and the pop that they bring to this bobber motorcycle.
A little history about the engine – the 1,250 cc Screamin' Eagle version of the Revolution engine was made available for 2005 and 2006, and was present thereafter in a single production model from 2005 to 2007. In 2008, the 1,250 cc Revolution Engine became standard for the entire VRSC line. Harley-Davidson claims 123 hp (92 kW) at the crank for the 2008 VRSCAW model. The VRXSE Destroyer is equipped with a stroker (75 mm crank) Screamin' Eagle 79 cubic inch (1,300 cc) Revolution Engine, producing over 165 hp (123 kW). You will notice that the engine has been finished with a gloss black powder coating. I think that that Metzler tires are awesome as that is what I currently run and I think they are a great brand. I think that there could have been more done to the foot controls and I am not a big fan of the open primary drive as I am scared that I would get my pants ripped off.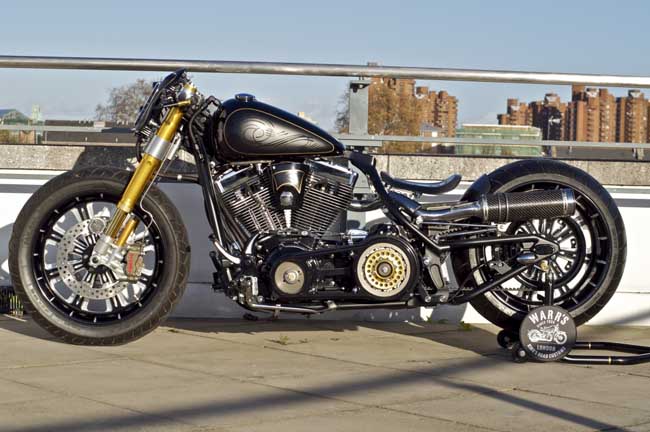 The gold look and the low profile really make this Harley-Davidson bobber motorcycle stand out at night.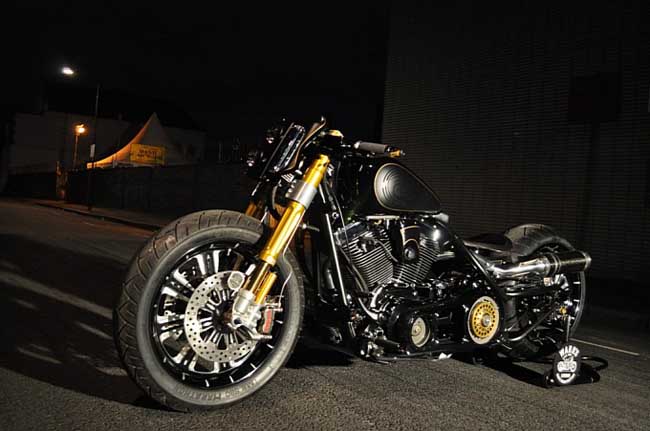 Carbon fiber is cool but I wonder how hard it is. I have had some carbon fiber stuff before and it is hard as a rock.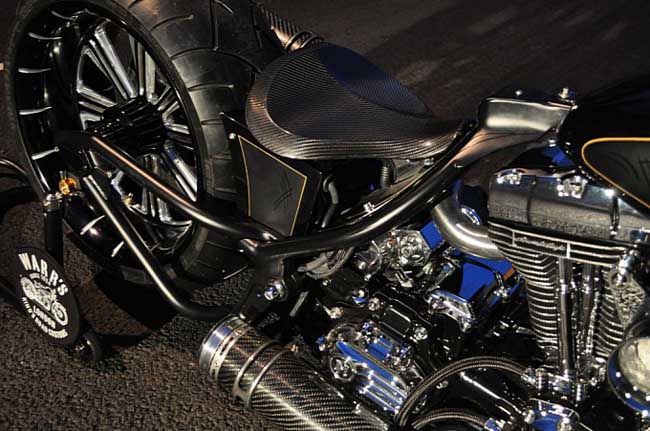 The rims are finished off really well. I think that the paint job on the tank and the oil tank have been done very well. There is a lot of chrome to keep clean and polished. Overall I would give this bobber motorcycle a 4.8 out of 5. I want to see a rear mirror and that is a safety things for me.