This bobber motorcycle was built by Jim Giuffra at AFT Customs and this bobber is sick. I think that the bobber paint job has been done very well. Sometimes when we see a motorcycle these days they have to be so over the top that they are not street legal (think OCC) and they look pretty but you will get pulled over without your TV crew.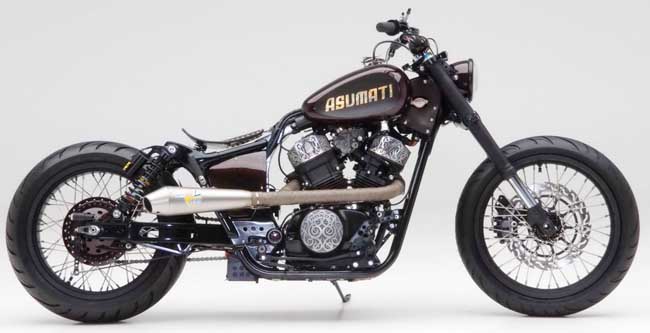 I want to say that this bobber motorcycle is a fully street legal motorcycle. It weighs in at only 420 pounds wet. The bobber can have the rear fender removed and that is how I chose to display it here. This bobber has a Paugho tank that was cut, widened, tunneled & reshaped. The standard location of the radiator is right behing the front tire it has now been relocated under the seat. The V-Twin motor is a naked engine design that AFT Customs pioneered with a VT750 performance kit, top end narrowed 2 inch. high compression pistons & cams and custom exhaust. The shocks are Race tech and were custom made for this bobber motorcycle. The license plate rotates from vertical to horizontal, which is cool as some states say it has to be horizontal.
I like this bobber, it has a great naked look to it. I think that the exhaust is great, the wrapped look that just goes straight into a really nice pipe that looks like it came off an R6. Check out the details on the engine, the bike, all over this bike to make it what it is.
Overall I would rate this bobber motorcycle a 5 out of 5, as this bobber has the safety equipment that is needed. This bike is listed in our top 10 Bobber motorcycles as well.
Tech Sheet: Name: Asumati. Builder: Jim Giuffra / AFT Customs Girls. Owner Jackson Rancheria Casino Year. Make/Engine: 2011 Custom Honda VT750 ST. Frame: Honda, no stretch. Rake: Stock. Trail: Stock. Front End: Yamaha R1. Swingarm: Modified. Drivetrain: Honda. Wheels [Front] Custom 19″ Wheels [Rear] Custom 18″. Tires [Front] Avon Cobra 120/70 x 19 Tyres [Rear] Avon Cobra 180/55 x 18. Brakes: Beringer/Moto Master/Honda [Painter: Todd Evans. Chroming / Plating: Meclec